PG-2 1Ł
PG-2 1Ł - test rig for journal bearings
Test rig PG II 1Ł is used for determination of static characteristics of journal sliding bearings. The stand is computer controlled with internal feedback loop for input parameters adjustment and has a computerised data acquisition (high repeatability of test conditions and immunity to interference). Radial force and rotational speed can be changed according to a pre - programmed function. Bearings can be tested with oil or water lubrication (important for ceramic and composite bearings). The stand is equipped with an accurate friction force sensor. The tested bearing is fixed in a rigid housing, which is supported on hydrostatic bearing. Rotational speed is controlled by a vector type frequency inverter, which allows to test fully loaded bearings in start - up and stop conditions.
Schematic view of test head (click sketch to enlarge):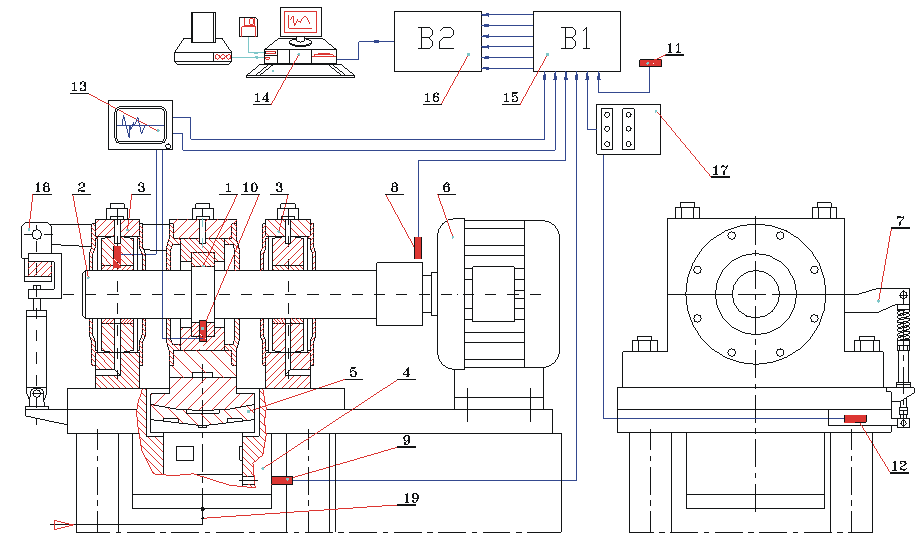 tested bearing
shaft
support bearing housing
hydraulic cylinder
hydrostatic support
AC motor
friction force pick-up
rotational speed transducer
pressure sensor
bearing temperature sensor
temperature sensor
friction force sensor (strain gage)
temperature panel
PC computer
transducer
Advantech PCL-812PG card
friction force signal amplifier
tilting pad set-up
hydraulic oil supply
Photo of test head: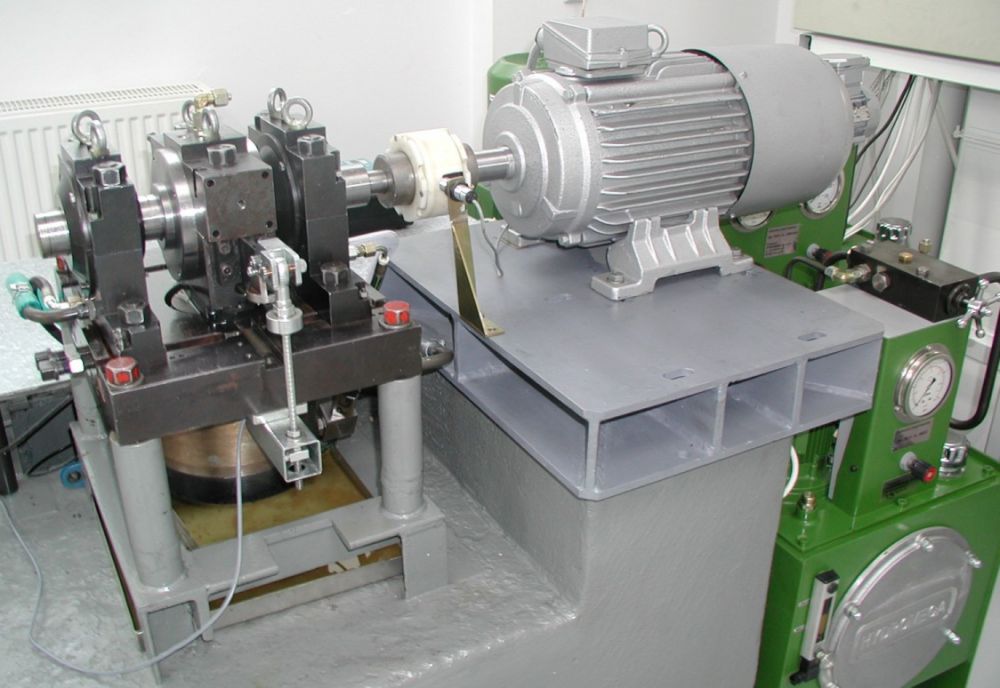 Specifications:
Radial load: up to 25 kN
Tilting torque: 0 - 5000 Nm
Rotational speed: 0 - 4000 rpm
Journal diameter of tested bearings: 30 - 110 mm
Measured or calculated quantities:
Friction force
Radial force
Temperature of sliding elements
Rotational speed
Tilting torque
Examples of the research:
Research of friction characteristics and load capacity of sliding journal bearing lubricated with oil or water. Energy efficiency of radial sliding bearings.
Contact person: